Sainte Marthe 46
Features
Line : Sainte - Marthe
Autres PDF :
Model : Sainte - Marthe 46'
Overall length : 14.50 m
Hull length : 14 m
Waterline length : 12.90 m
Beam width : 4.40 m
Draft : 1.90 m
Lightcraft displacement : 17 t
Ballast : Twin keels : 3.5 t
Rudder(s) : 1
Category : A (Offshore)
Upwind sail area : 121.45 m²
Mainsail area : 44.45 m²
Genoa area : 77 m²
Cabin(s) : 2 double
Berth(s) : 7
Head(s) : 1
Saloon : Huge saloon at back
Other : Tender stowage area under the boom
Engine(s) : Nanni Diesel N4.115 115hp @2600rpm
Fuel tank : 3000 L
Architect(s) : Michel Joubert / Nivelt
60 years of experience in shipbuilding.
More than 400 boats, many of which have sailed around the world in all seas and oceans.
Resistant, comfortable, safe boats that stand the test of time.
META YACHTS presents the SAINTE MARTHE 46
Personality
The largest model in the Sainte Marthe range, the 46 is a large capacity mixed cruiser with all the comforts. It is equipped with large diesel tanks which allows it to have a large autonomy and its Strongall® hull allows it to acc
ess all the seas of the world. Its triplane hull (bi-keel + protected rudder) makes it a boat that can be beached without apprehension.
Layout
The Sainte Marthe 46 has a large salon with a kitchen, a chart table and a steering wheel with all the engine controls on the main deck and two large double cabins as well as a bathroom with toilet on the lower deck.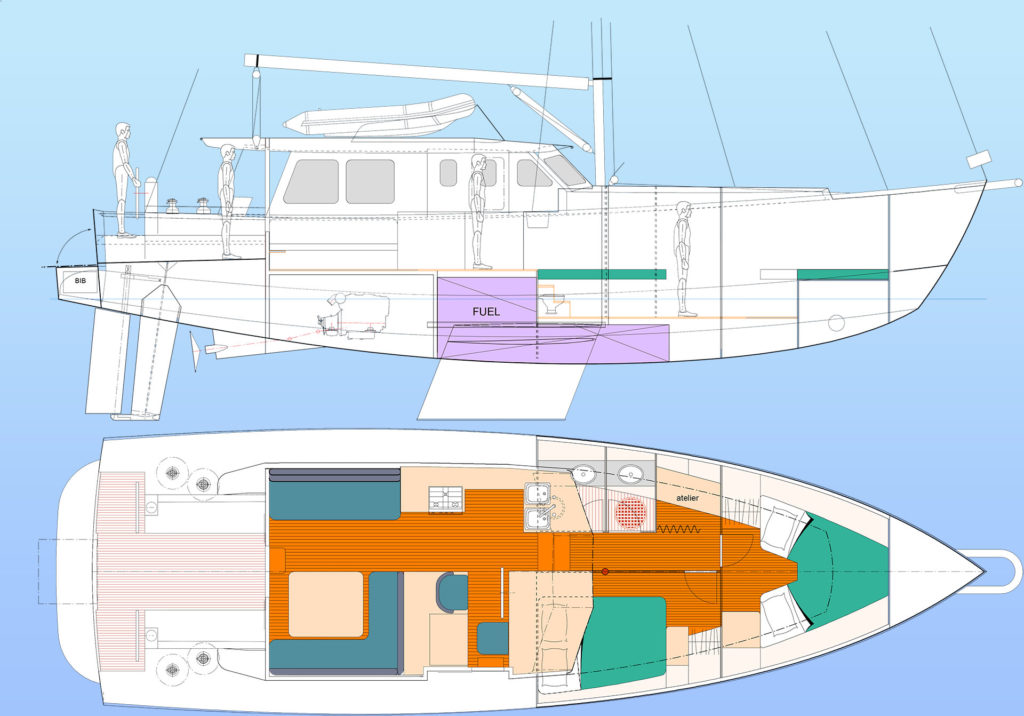 Your META
The possibility of a custom design is very important to META YACHTS. None of our designs are set in stone. META YACHTS is open to suggestions and offers the possibility of custom layouts. A META boat is above all a boat that looks like you!
You can find the rest of the range on the yachts page: https://meta-yachts.com/realisations/.
About
Do you want to hear about the experiences of META owners? Explore the owners' blogs !
https://meta-yachts.com/adventurers/
The meeting of the 2 Saintes Marthe 46 by voile et voiliers
https://voilesetvoiliers.ouest-france.fr/croisiere/grande-croisiere/insolite-rencontre-entre-les-deux-seuls-exemplaires-du-sainte-marthe-46-voilier-de-croisiere-026ec5be-23a8-11ed-bda5-2977ce526b0a
---
Technical sheet download
Download the technical sheet
Other document download
Meta-yachts_Sainte-marthe-46_en