META 50 HURLANTS
Features
Line : META
Model : META 50 HURLANTS
Overall length : 16 m
Hull length : 15.15 m
Waterline length : 14.20 m
Beam width : 5.20 m
Draft : 1.85 m
Lightcraft displacement : 16 t
Maximum displacement : 18.3 t
Rudder(s) : 2
Category : A
Upwind sail area : 153 m²
Mainsail area : 77.5 m²
Genoa area : 75.6 m²
Cabin(s) : 2 doubles (+ option cabine skipper)
Berth(s) : 8+2
Head(s) : 1
Saloon : Vision panoramique à 270°
Engine(s) : 65ch ou GE + 2 SD15 électriques
Fuel tank : 600 L
Water tank : 600 L
Architect(s) : META (Brabetz & Kopf)
The META 50 HURLANTS or META FURIOUS 50 (as a reference to that particular latitude) is a powerful and comfortable sailing boat designed for long distance cruising.
This deck saloon sailing yacht is composed of a large panoramic view with an open kitchen, a chart table, 1 double cabins at the rear and a large owner's cabin fore, with dressing room and independent bathroom. A single skipper's cabin with bathroom is also possible.
As per all our ships, the META 50 HURLANTS is made of ultra-resistant prestressed Strongall® aluminum, and can be tailor-fitted to suit your specific needs.
The TurboKeels® version will display performances equivalent to those of a 3.50m draft keelboat, thanks to the ballasting twin keel system which will also reduce list by 15-20°.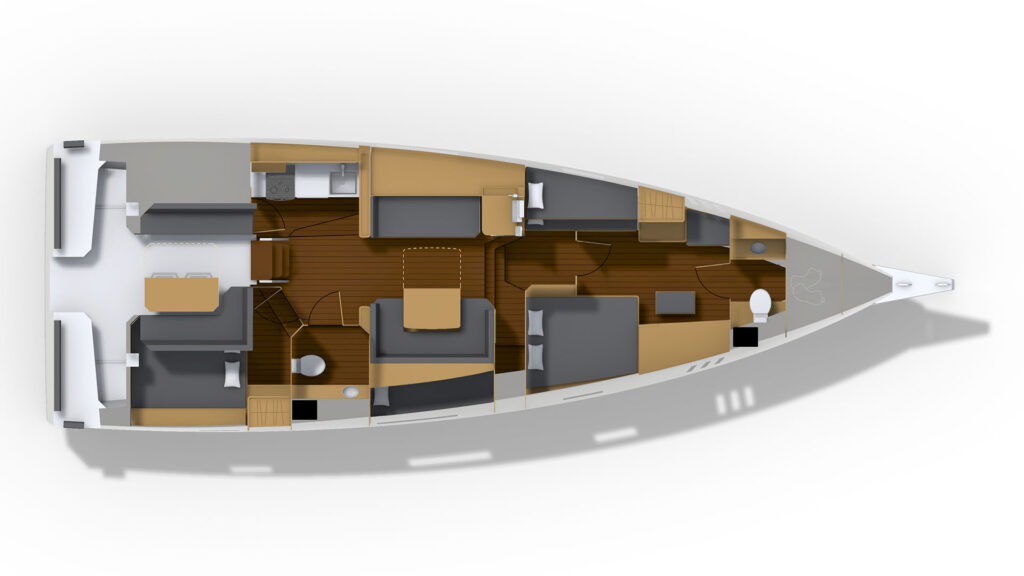 ---
Technical sheet download
Download the technical sheet