JPB 52
Features
Line : JPB
Model : JPB 52
Overall length : 15.70 m
Hull length : 15.50 m
Waterline length : 14.50 m
Beam width : 4.88 m
Draft :

Version 1 : 1.10 m
Version 2 : 3.15 m

Lightcraft displacement : 17 t
Ballast : Lifting Keel : 5 t
Rudder(s) : 2
Category : A (Offshore)
Upwind sail area : 147 m²
Mainsail area : 68 m²
Genoa area : 79 m²
Cockpit : Multiple access to the boat (aft/front)
Cabin(s) : 1 double owner + 1 bunk bed + 1 single
Berth(s) : 10/11
Head(s) : 2
Saloon : 1 central with kitchen and chart table + 1 large rear lounge
Other : 2 single berths in the back lounge
Engine(s) : Nanni diesel N4.65 SD 65cv @2700rpm
Fuel tank : 800 L
Water tank : 640 L
Architect(s) : Jean-pierre Brouns
60 years of experience in shipbuilding.
More than 400 boats, many of which have sailed around the world in all seas and oceans.
Resistant, comfortable, safe boats that stand the test of time.
META YACHTS presents the JPB 52
Personality
The JPB 52 is the largest yacht of the JPB range. A long distance sailboat, its integral centerboard allows it to access all the seas of the world and to run aground at will without apprehension. Its Strongall aluminum hull guarantees, as for all META Yachts constructions, a great resistance to impacts and an exceptional longevity. Made for the open sea, its design allows a comfort and a safety without fault. Today a JPB 52 offers Mediterranean cruises around Corsica and Sardinia.
Layout
The JPB 52 is a sailing boat with large interior spaces. It includes two living areas, a main saloon with the kitchen and the chart table and a second large saloon at the back with a bar and many sofas. The yacht also has 3 cabins, one of which is a double owner's cabin and one with bunk beds. Space and confort at high level.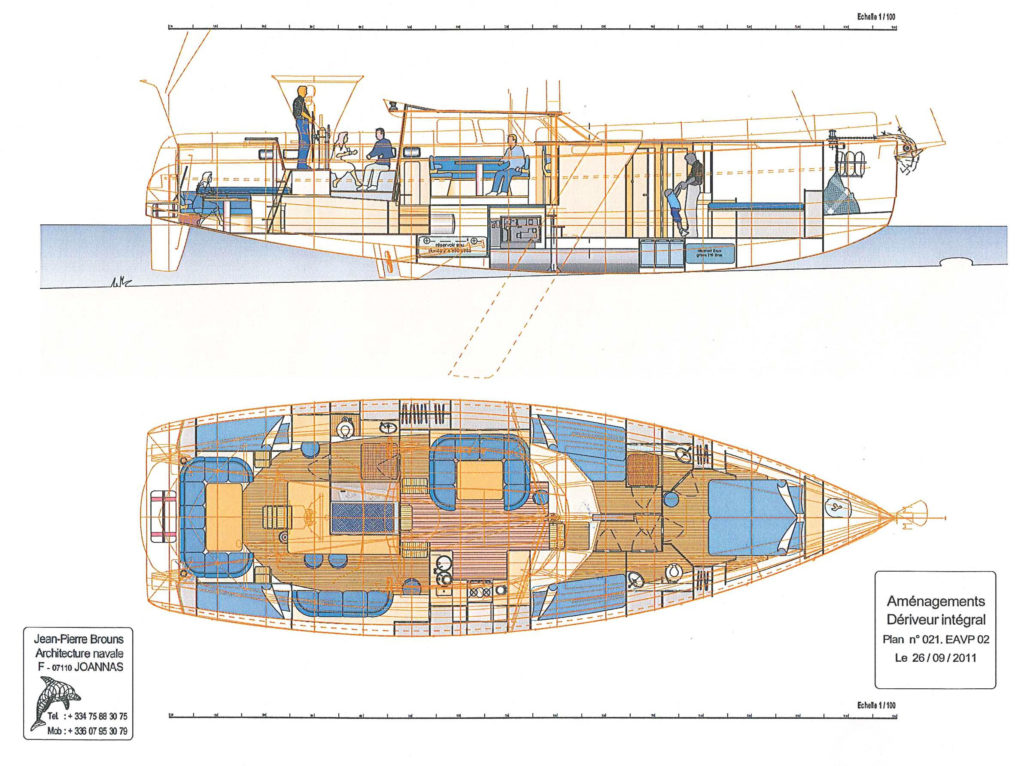 Your META
Working in close collaboration with the naval architect Jean-Pierre Brouns, we can offer you the JPB 52 as close as possible to your expectations. The possibility of a custom design is very important to META YACHTS. None of our designs are set in stone. META YACHTS is open to suggestions and offers the possibility of custom layouts, made in our layout workshop in Port Saint-Louis du Rhône.
A META boat is above all a boat that looks like you! A long distance sailboat as YOU imagine it.
You can find the rest of the range on the yachts page: https://meta-yachts.com/realisations/
More informations
Visit the JPB 52 : https://www.youtube.com/watch?v=yQaTNk7zN8s&t=46s
The architect, Jean-Pierre Brouns : http://www.brouns.fr/produit/jpb-52-di/
---
Technical sheet download
Download the technical sheet