JPB 50
Features
Line : JPB
Model : JPB 50
Overall length : 14.99 m
Hull length : 14.79 m
Waterline length : 14.33 m
Beam width : 4.50 m
Draft : 1.69 m
Lightcraft displacement : 15.2 t
Maximum displacement : 18 t
Ballast : Twin keels: 4.8 t
Rudder(s) : 1
Category : A (Offshore)
Upwind sail area : 126 m²
Mainsail area : 61 m²
Genoa area : 65 m²
Cockpit : Various accesses to the boat (forward/backward)
Cabin(s) : 2 doubles + 1 with 2 single beds + 1 single
Berth(s) : 10
Head(s) : 2
Saloon : Main saloon with kitchen and chart table + lounge in front
Engine(s) : Nanni Diesel N4.115 115hp @2600rpm
Fuel tank : 550 L
Architect(s) : Jean-pierre Brouns
60 years of experience in shipbuilding.
More than 400 boats, many of which have sailed around the world in all seas and oceans.
Resistant, comfortable, safe boats that stand the test of time.
META YACHTS presents the JPB 50
Personality
Large offshore expedition yacht, the JPB 50 is both resistant, spacious and comfortable. The architect Jean-Pierre Brouns has made a point of providing maximum fluidity in the movements, maneuvers under sail and in the careful finishing. By its design and its habitability, this offshore yacht is easily manageable with a reduced crew. Its Strongall aluminum hull guarantees, as for all META Yachts constructions, a great resistance to shocks and an exceptional longevity. The JPB 50 will take you to all the seas of the world.
Layouts
With its two living rooms and four bedrooms, it will be able to welcome your family and friends in complete safety. The headroom leaves plenty of space for the tallest of us and offers a very spacious and open cabin. The two living rooms contribute to this beautiful impression of openness by splitting the spaces while remaining sober in the layout without unnecessary elements.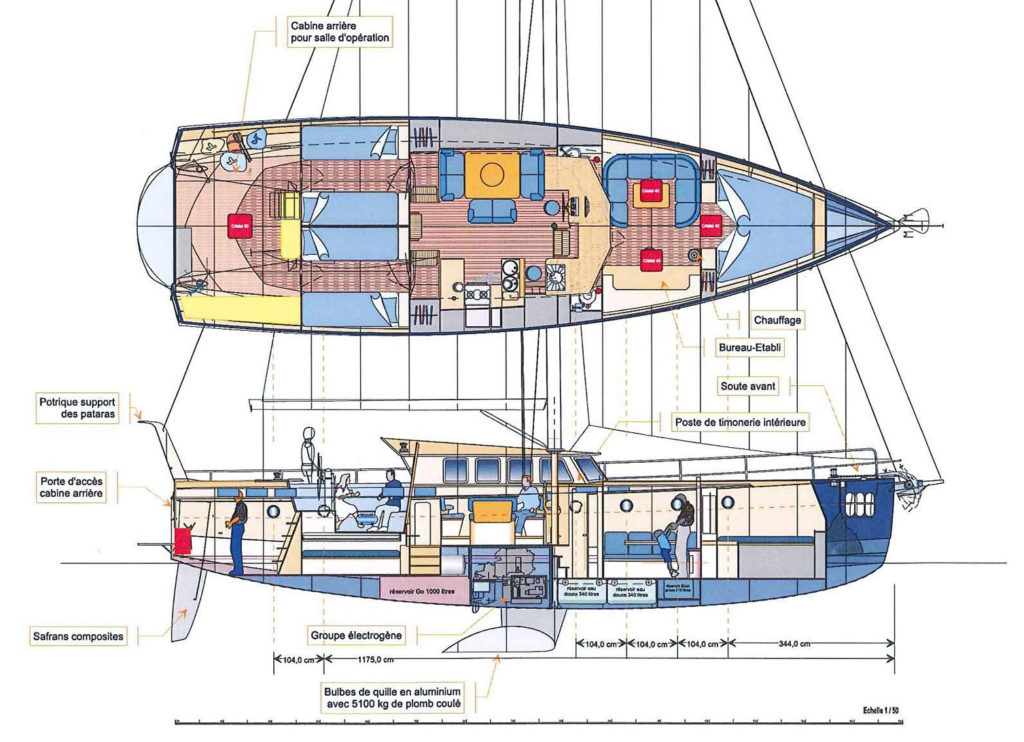 Your META
Working in close collaboration with the naval architect Jean-Pierre Brouns, we can offer you the JPB 50 as close as possible to your expectations.
The possibility of a custom design is very important to META YACHTS. None of our designs are set in stone. META YACHTS is open to suggestions and offers the possibility of custom layouts, made in our layout workshop in Port Saint-Louis du Rhône.
A META boat is above all a boat that looks like you! A sailing boat as YOU imagine it.
You can find the rest of the range on the yachts page: https://meta-yachts.com/realisations/
More informations
L'essai voile et voiliers : https://www.voileetmoteur.com/essai/voiliers/essai-voilier-jpb-50-laluminium-sur-mesure/106898
The architect, Jean-Pierre Brouns : http://www.brouns.fr/produit/jpb-52-di/
---
Technical sheet download
Download the technical sheet