JMF 33
Features
Line : JMF
Model : JMF 33'
Overall length : 9.99 m
Hull length : 9.65 m
Beam width : 3.28 m
Draft : 0.89 m
Lightcraft displacement : 6 t
Maximum displacement : 6.99 t
Ballast : Twin keels
Rudder(s) : 2
Category : A (Offshore)
Mainsail area : 8.13 m²
Genoa area : 11.7 m²
Cockpit : Sheltered with wheelhouse
Cabin(s) : 1 double
Berth(s) : 4
Head(s) : 1
Other : Large exterior space in the back
Engine(s) : 2 x Nanni diesel N4.60 SD 60ch @ 2800rpm
Architect(s) : Jean-pierre Brouns
60 years of experience in shipbuilding.
More than 400 boats, many of which have sailed around the world in all seas and oceans.
Resistant, comfortable, safe boats that stand the test of time.
META YACHTS presents the JMF 33
Personality
A troller yacht of a little less than 10 meters, the JMF 33' is a yacht with large interior and exterior volumes that has nothing to envy to trollers of a few meters more. With its sheltered cockpit and high headroom, the interior is relatively large with a living/dining area, a fully equipped galley, and a wheelhouse area with steering wheel and chart table. On the lower deck, there is a large double owner's cabin and a bathroom with toilet.
The JMF 33' can be equipped with a mast and sails and the interior layout can be modified as desired.
Layouts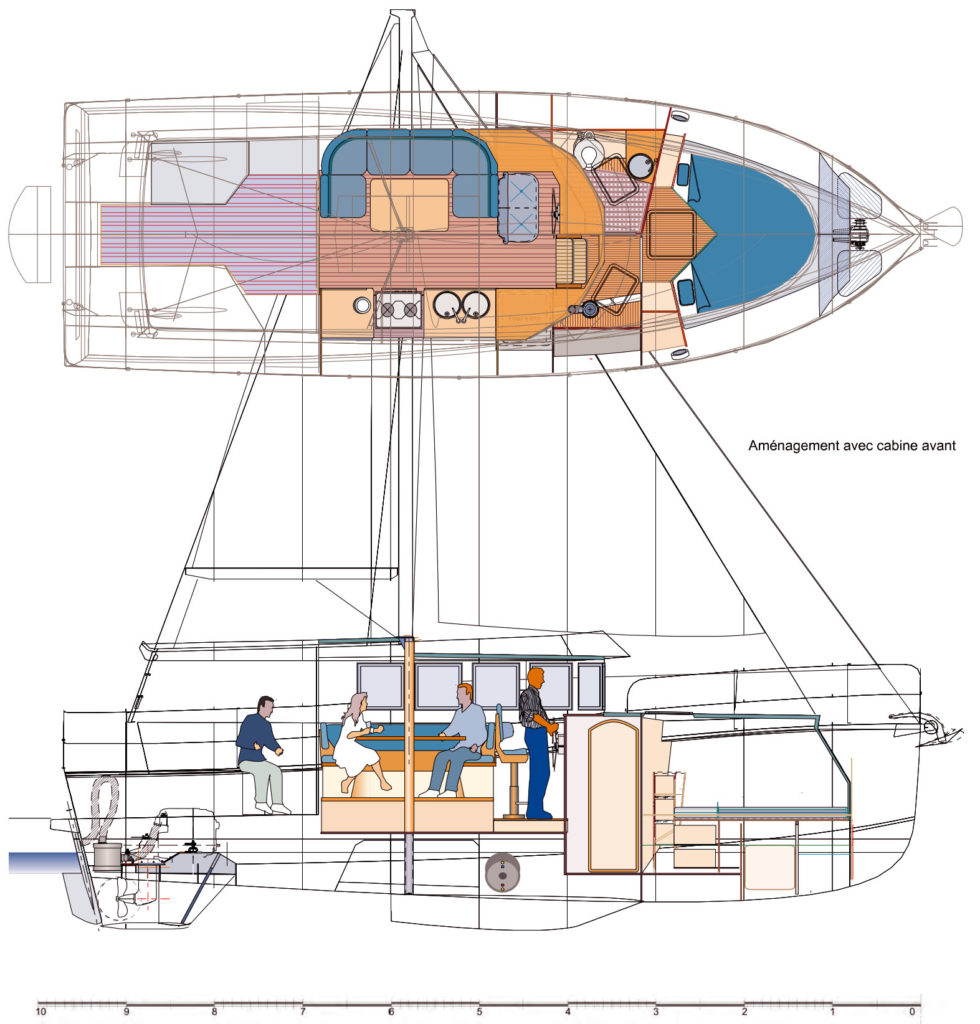 Your META
The possibility of a custom design is very important to META YACHTS. None of our designs are set in stone. META YACHTS is open to suggestions and offers the possibility of custom layouts. A META boat is above all a boat that looks like you!
You can find the rest of the range on the yachts page: https://meta-yachts.com/realisations/.
About us
Would you like to hear about the experiences of META owners? Explore the owners' blogs!
https://meta-yachts.com/adventurers/
The architect : http://www.brouns.fr/produit/jmf-33/
---
Technical sheet download
Download the technical sheet