Fleur Australe
Features
Line : Ketch
Model : Fleur Australe
Overall length : 19.80 m
Hull length : 19.20 m
Waterline length : 17.10 m
Beam width : 5.30 m
Draft :

Version 1 : 1.71 m
Version 2 : 3.85 m

Lightcraft displacement : 30 t
Ballast : Lifting Keel: 5 t
Category : A (Offshore)
Cabin(s) : 1 doubles + 3 bunk beds
Berth(s) : 10
Head(s) : 2
Saloon : Huge area for 8 people
Other : https://www.fleuraustrale.org/visite-du-bateau
Engine(s) : Nanni N6.165 SD 165cv
Fuel tank : 5000 L
Water tank : 2000 L
Architect(s) : Joubert & Nivelt
60 years of experience in shipbuilding.
More than 400 boats, many of which have sailed around the world in all seas and oceans.
Resistant, comfortable, safe boats that stand the test of time.
META YACHTS presents FLEUR AUSTRALE
Personality
A large expedition ketch made famous by the navigator Philippe Poupon and his family who made a voyage through the two poles, the Fleur Australe is a yacht capable of withstanding anything: icebergs, high seas, a family with 3 children, a dog... This yacht of a little less than 20 meters has an important capacity of reception and many spaces for storage or household appliances. It has a capacity of 5000 liters of diesel and 2000 liters of water for an autonomy of several weeks.
Layout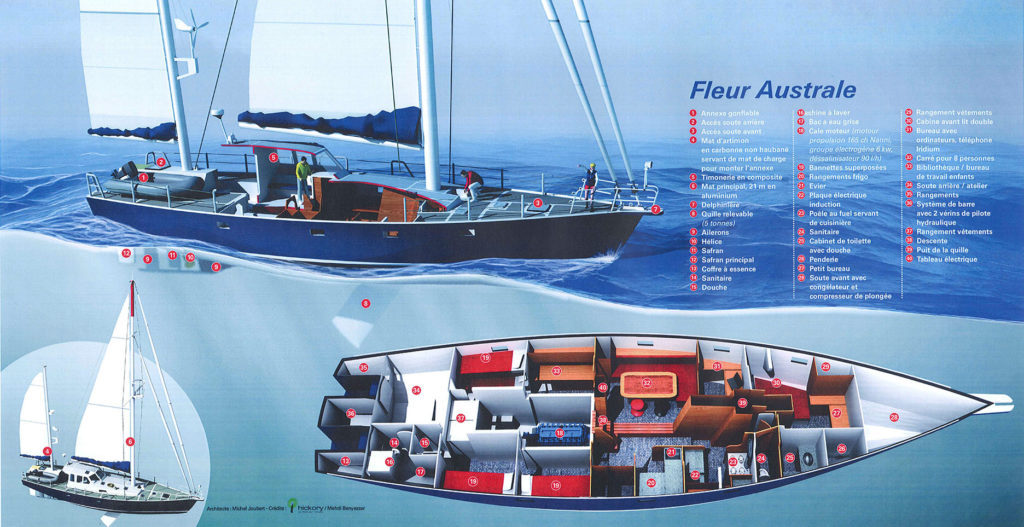 Your META
The possibility of a custom design is very important to META YACHTS. None of our designs are set in stone. META YACHTS is open to suggestions and offers the possibility of custom layouts. A META boat is above all a boat that looks like you!
You can find the rest of the range on the yachts page: https://meta-yachts.com/realisations/.
They talk about us !
Do you want to hear about the experiences of META owners? Explore the owners' blogs!
https://meta-yachts.com/adventurers/
The adventures of Fleur Australe :
---
Technical sheet download
Download the technical sheet