META 39
Features
Line : META
Model : META 39
Overall length : 12.55 m
Hull length : 11.99 m
Beam width : 4.40 m
Draft : 1.70 m
Lightcraft displacement : 10 t
Category : A
Upwind sail area : 85 m²
Cabin(s) : 3
Berth(s) : 8
Engine(s) : 40ch
Fuel tank : 290 L
Water tank : 239 L
Architect(s) : META - (KOPF)
60 years of experience in shipbuilding.
More than 400 boats, many of which have sailed around the world in all seas and oceans.
Resistant, comfortable, safe boats that stand the test of time.
META YACHTS presents the META 39
Personality
The META 39 is the perfect baroudeur. An exploration sailboat, the META 39, in accordance with our construction requirements, is adapted to offshore sailing. Practical, safe and resistant, its rigid canopy guarantees a total visibility on the environment and a protection against the bad weather.
The META 39 is the perfect option for couples, families and friends to explore and adventure on an offshore or coastal cruise.
Without compromising on safety and comfort, like all our constructions, the META 39 is made of ultra-strong Strongall® pre-stressed aluminum, and offers several accommodation options.
Layouts
The META 39 can  accommodate up to 8 people with its 3 double cabins and convertible saloon. The four closets offer storage space and the spacious saloon can easily accommodate the entire crew in comfort while providing an excellent view of the water.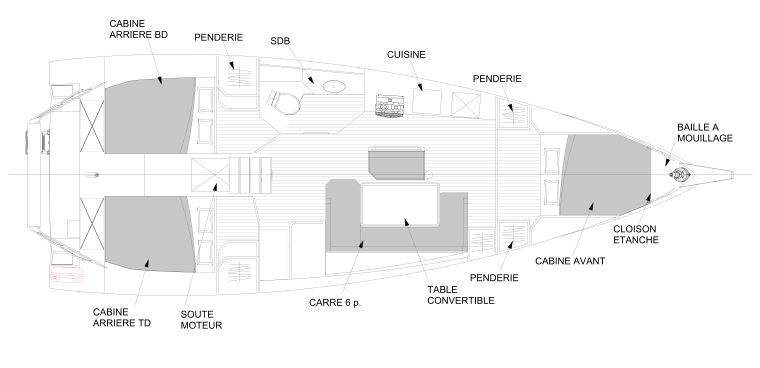 Your META
The META 39 is available in a twin keel version and is particularly well adapted to the TurboKeels® system (twin keel with ballast) which allows it to offer performance equivalent to that of a keelboat with half the draft and a 15-20° reduction in heel. You will be able to access (almost) every corner of the globe for barrier-free world exploration.
The possibility of a custom design is very important to META YACHTS. None of our designs are set in stone. META YACHTS is open to suggestions and offers the possibility of custom layouts. A META boat is above all a boat that looks like you!
You can find the rest of the range on the yachts page: https://meta-yachts.com/realisations/
Testimonials :
Vous souhaitez des retours d'expériences des propriétaires META? Explorer les blogs propriétaires !
https://meta-yachts.com/adventurers/
La gamme META sur NauticExpo
---
Technical sheet download
Download the technical sheet