META 33
Features
Line : META
Model : META 33
Hull length : 10 m
Waterline length : 10 m
Beam width : 3.70 m
Draft : 1.71 m
Maximum displacement : 4.9 t
Rudder(s) : 1
Category : A
Cabin(s) : 2 doubles
Berth(s) : 6
Head(s) : 1
Engine(s) : 20ch
Fuel tank : 75 L
Water tank : 200 L
Architect(s) : META (Brabetz & KOPF)
60 years of experience in shipbuilding.
More than 400 boats, many of which have sailed around the world in all seas and oceans.
Resistant, comfortable, safe boats that stand the test of time.
META YACHTS presents the META 33
Small adventurer, great escape!
Personality
The META design office has condensed its experience and know-how in the creation of this pocket-sized expedition cruiser for the general public. The META 33 is ideal for taking on the seas and oceans alone or with others.
Imagine a cruiser of just 10m capable of accompanying you in all your adventure and exploration projects. From coastal weekends to round-the-world voyages, there's no stopping it! Its size makes it an all-men sailboat without cutting back on the comfort, habitability and of course the safety that characterizes META YACHTS boats.
Layout
The closed cockpit has been studied for its ergonomics and safety. Protected by its very glazed roof, the visibility is perfect to observe the environment surrounding the skipper and his crew. Access to the water is also facilitated by its rear skirt. The interior of the META 33 shines by its simplicity, it gives the impression that everything is in its natural place. The two double cabins allow an unequalled intimacy in a 33'. The saloon is very specious and convivial, with its view on the sea.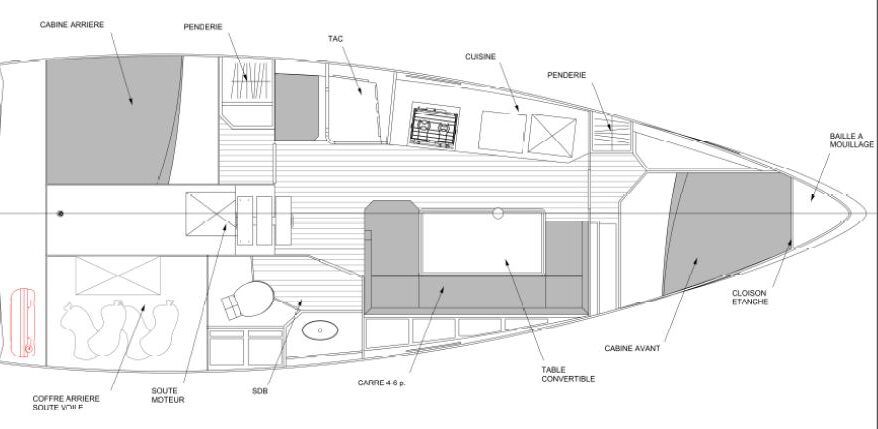 Your META
The possibility of a custom design is very important to META YACHTS. None of our designs are set in stone. META YACHTS is open to suggestions and offers the possibility of custom layouts. A META boat is above all a boat that looks like you!
You can find the rest of the range on the yachts page: https://meta-yachts.com/realisations/
They talk about us
Do you want to hear about the experiences of META owners? Explore the blogs of the adventurers!
https://meta-yachts.com/adventurers/
Find the META 33 on NauticExpo
https://www.nauticexpo.com/prod/meta-yachts/product-198707-584923.html
---
Technical sheet download
Download the technical sheet