Territoire 11.80
Features
Line : Territory
Model : Territory 11.80
Overall length : 12.25 m
Hull length : 11.80 m
Waterline length : 11.40 m
Beam width : 3.83 m
Draft : 1.98 m
Lightcraft displacement : 7.75 t
Ballast : Lee Keel : 2.88 T
Category : A (Offshore)
Upwind sail area : 82 m²
Mainsail area : 39 m²
Genoa area : 43 m²
Cabin(s) : 2 double + 1 single
Berth(s) : 7
Other : Dog house convertible
Engine(s) : Nanni diesel N4.50 SD 50hp @2800rpm
Fuel tank : 350 L
Water tank : 350 L
Architect(s) : Eric Henseval Yacht Design
Sturdy and ready to "hit the road" in heavy seas, it has a fixed keel for great stability at large angles, with a controlled weight ratio, equivalent to its polyester counterparts, thanks to its lightweight layout.
This expedition yacht is composed of a Dog-House, a pilot cabin with a bunk and a wheelhouse that serves the front and the back of the boat. The aft is composed of a double cabin, a single cabin with bunkers and a bathroom with toilet while the bow is composed of a large saloon with a fully equipped kitchen and a large double cabin on the bow.
Thanks to its internal structure simplified by the Strongall (strong hull in aluminum), the interns layouts and configurations of the roof will be modifiable at will.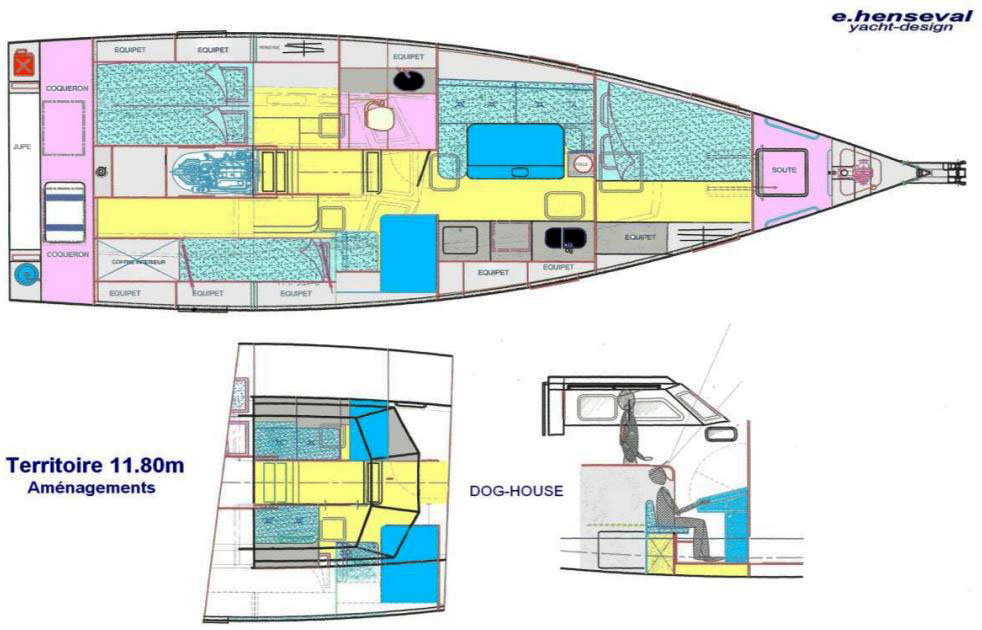 ---
Technical sheet download
Download the technical sheet